eSOL was pleased to feature at Embedded World in Nuremberg, Germany (March 14th – 16th, 2023). This annual event brings together engineers and enthusiasts in the field of embedded systems to explore the latest trends, technologies and challenges. This year's tagline for the exhibition & conference was "embedded. responsible. sustainable." and this reflected well on the industry's focus toward greater sustainability.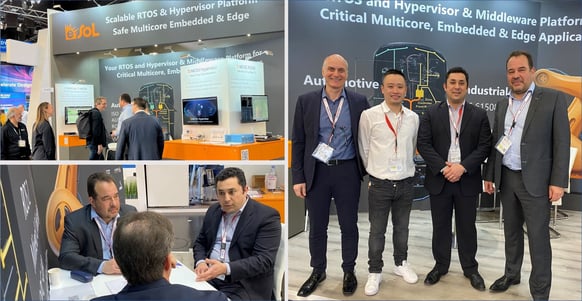 eSOL booth at embedded world 2023
Our experts successfully met with numerous business and technology partners, embedded system designers and developers, as well as journalists. eSOL products showcased included:

eMCOS® platform solutions targeting the automotive and industrial markets, and using the following technologies;

eMCOS RTOS, hypervisor & middleware platform for critical multicore, embedded & edge applications;
Autoware/ROS on eMCOS integrated solution for AD/ADAS, automated vehicles, and robotics.
New software-factory-ready product eMCOS software development kit (SDK) was highlighted at the show. eMCOS SDK provides a full commercial, comprehensive bundle of CI/CD-ready tools and run-time software, which makes it easier to kick start a development project and incorporate functional safety and mixed criticality when creating new embedded applications.
The eMCOS SDK is already available to eSOL's key customers. Its first general release is scheduled for next month. In the interim, eSOL will continue to work on the SDK to ensure its functionality and quality remain at the highest possible levels. Soon eSOL will release further add-ons including:
Source code packages for eMCOS POSIX and eMCOS Hypervisor

®

ISO 26262 pre-certified licenses and safety materials for functional safety in vehicles.
"We are delighted to offer our enhanced eMCOS SDK in an easy-to-use, all-in-one convenient package that simplifies functional safety or mixed criticality software development." said Masaki Gondo, CTO, Senior Executive Vice President, and Head of the Software Division at eSOL. "This user-friendly commercial bundle of tools has been designed to help customers speed up their development of software solutions while optimizing their purchasing and reducing their overall costs."

Following a fruitful experience at this year's show, we already look forward to Embedded World 2024!



A.S
Marketing Communications team