eSOL successfully highlighted the company's technologies at embedded world 2022, including the eMCOS Hypervisor, a real-time hypervisor based on a modern multikernel RTOS platform. eSOL also showed its eMCOS POSIX high-performance, scalable real-time operating system (RTOS), which delivers scalable heterogeneous multi/manycore support and increased portability with extensive POSIX API. The Autoware/ROS on eMCOS – the only open-standard framework available for AD/ADAS delivering safe, real-time performance on multi/manycore devices – was also featured in Nuremberg.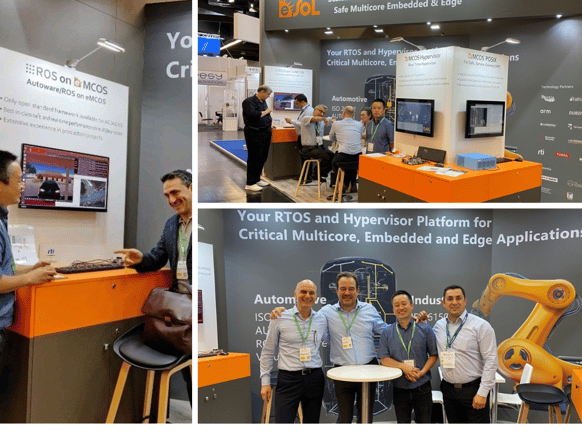 eSOL booth at embedded world 2022
Developing the theme "Your RTOS and Hypervisor Platform for Critical Multicore, Embedded and Edge Applications", eSOL was also present at the show's conference on Thursday 23rd of June. Rolland Dudemaine presented a well-attended session entitled "Embedded OS Trends: The Future of Automotive SW Partitioning in Connected and Autonomous Vehicles."
Visitors to the company's booth were keen to talk to eSOL experts and learn about the company's eMCOS multikernel RTOS platform, which offers the highest safe RTOS performance on multi/manycore systems with no performance bottlenecks.
eSOL featured three key demos throughout Embedded World:
1. eMCOS Real-Time Hypervisor
Safe and secure virtualization

Combined with outstanding real-time performance

Highly flexible partitioning for mixed-criticality systems
2.

eMCOS POSIX for Safe, Service-Oriented HPC



Highest parallel performance through multikernel

Scalable heterogeneous multi/manycore support

Increase portability with extensive POSIX API
3. Autoware/ROS on eMCOS
Only open standard framework available for AD/ADAS

Best-in-class safe and real-time performance on multi/manycore

Extensive experience in production projects
eSOL discussed with show attendees projects where eMCOS development and mass production licenses, as well as support and maintenance contracts, could be used for embedded mass production development projects.
The company has been offering microkernel RTOSes since 1984, and since 2005 the eT-Kernel (TRON T-Kernel Standard API), which is often used in automotive or industrial applications. The modern multikernel RTOS architecture gives each core of the CPU its own lightweight microkernel. All microkernels communicate with each other without mutual blockades by asynchronous messages, reducing IPC latencies to the technically possible minimum.
E.V
Marketing Communications team